The Clarkston Campus is part of Georgia State University. This site has 10 lighted hard tennis courts where UTA runs classes and programs throughout the year for all ages and abilities. This facility is located across the street from Clarkston High School, just north of Georgia Piedmont Technical College, and is a short drive from Stone Mountain. UTA uses the Clarkston facilities to host a variety of junior and adult tennis programs for beginner and advanced players.
MEET THE TEAM
MEET THE TEAM
Meet the Clarkston team! Hover over and click the below team members to meet our tennis pros and learn more about them!
Meet the Clarkston team! Hover over and click the below team members to meet our tennis pros and learn more about them!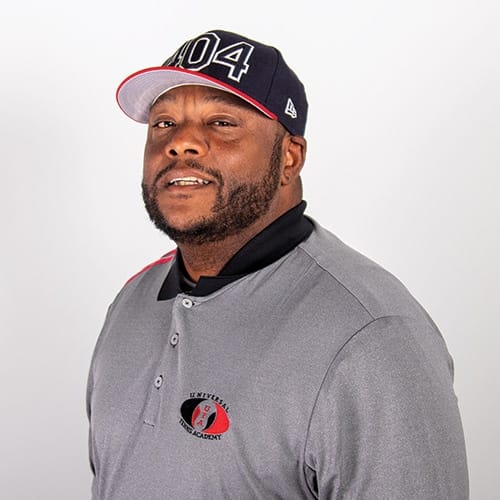 UTA Partner
Kenyon Generette-Oliver
Kenyon is originally from Atlanta and helps lead the team at Piedmont Tennis Center, Briarlake Church, and Clarkston. Kenyon is a graduate of Mars Hill College where he earned a Bachelors degree in Communications and English with a minor in Economics while playing tennis and soccer.
Kenyon has been the head teaching pro with some of the top tennis clubs in the Atlanta metro, including Dunwoody Country Club and the Atlanta Country Club. Prior to those stents, he was a staff pro at the Capital Country Club. He is an Elite USPTA Tennis Professional and has been teaching juniors for over 25 years.
In his spare time, Kenyon loves hanging out with his friends and family. He loves tennis so much, he even plays while on vacation.
Work in the Community:
– Volunteered wheelchair tennis tournament at Dunwoody Country Club
– Volunteer coach for Druid Hill High School girls and boys team
– Volunteer for Serve and Connect at Washington Park
– Volunteer for wheelchair tennis programming at Blackburn Tennis Center
– Board Member of AYTEF
– Volunteer coach for CHOA yearly tournament
– Volunteer for teach-a-thons to raise funds for AYTEF
– Volunteer coach at the Ron Clark Academy
– Dreammakers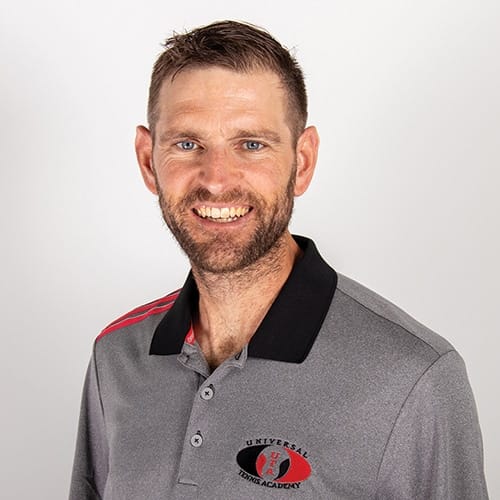 Tennis Professional
Kyle Bowers
Kyle competed collegiately at Erskine College in South Carolina where he earned a degree in Sports Medicine. He has coached at UTA for over 15 years and he specializes in developing fundamentals in younger players. He coaches players of all ages and abilities from adults to tiny tots. He has coached numerous adult teams as well.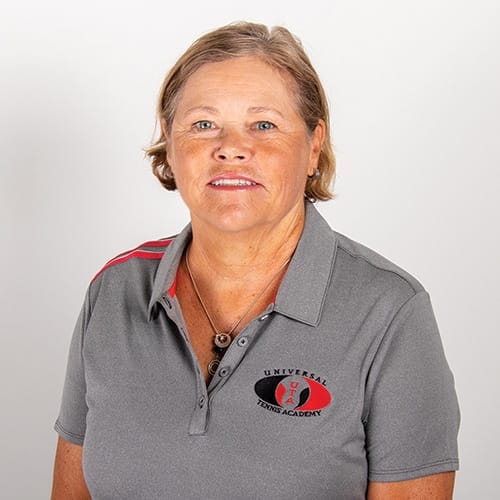 Tennis Professional
Melanie Burrows
Melanie is originally from Cambridge, England and attended the University of Tennessee at Chattanooga on a tennis scholarship. She played # 1 singles her senior year and the team won the Southern Conference in 1987. Melanie received numerous collegiate awards including Outstanding Senior award and Academic All-American Collegiate Award. She earned a Bachelors' degree in Education and Recreation. She is USPTA certified and has 30 years of teaching and administrative experience.
STAY CONNECTED
STAY CONNECTED
"He, in my opinion, is the epitome of a great athlete."

In our latest interview with the Pros of UTA, Director Marcelo talks about his favorite professional tennis player, Roger Federer. 💯 Marcelo tells us why Federer is not only great on the court, but off the court as well. Check out the video link in our bio to get the full scoop! #UTATennisATL #GameSetUnmatched ... See MoreSee Less
Play
Join us at our Developmental Camp for high performance players! 🔥🎾

We're hosting a Developmental Camp for 12's/14's and 16's/18's at James Creek on June 6 & 7! The camp will focus on doubles technique, movement, positioning, decision-making, and point play with a mini tournament included!

Where: James Creek Tennis Center
Age Groups: 12's/14's & 16's/18's
Criteria: 12's/14's – Minimum UTR 3.5
Criteria: 16's/18's – Minimum UTR 5.5
Participants allowed: 40 Maximum

Session times:
Day One | 12 PM-3 PM : 12's / 14's
Day One | 3 PM-6 PM : 16's / 18's
Day Two | 12 PM-3 PM : 16's / 18's
Day Two | 3 PM-6 PM : 12's / 14's

Fees:
$150 per UTA player
$225 per non-UTA player

Please contact Marcelo Ferreira at 818-450-7836 or Trey Walston at [email protected] to register! #UTATennisATL #GameSetUnmatched ... See MoreSee Less
Is there a similar camp for 10 yo's that may be playing to age 12/14 or are they eligible?
No coincidences. No mistakes. Only hard work and passion. ⚡️UTA Partner Tim Noonan discusses the start of UTA - a dream turned into a reality designed to be #unmatched. It's not only easy to recognize UTA as a successful program, but also as a dedicated and passionate community. #UTATennisATL #GameSetUnmatched ... See MoreSee Less
Play
UTA
Clarkston