The historic Bitsy Grant Tennis Center is located in the Springlake/South Buckhead area of Atlanta, and offers 13 fully lit clay courts and 12 fully lighted hard courts for public play daily. Opened in 1952, BGTC has hosted numerous national and sectional tournaments, and during the 1970's was the headquarters for the Atlanta Lawn Tennis Association, the country's largest grassroots tennis organization. Legendary players such as Arthur Ashe, Tony Traebert, Bobby Riggs, Cliff Richey, Dan Magill, and of course Bryan "Bitsy" Grant himself, to name just a few who have all competed on the courts at BGTC.
LOCATION INFORMATION
Phone Number:
(404) 609-7193
Hours of Operation:
Monday – Friday (9AM – 9PM)
Saturday/Sunday (9AM – 6PM)
*Please note that hours may vary depending on weather conditions.
Hard Court Fees:
Prime Time, $5 per person per hour (weekdays after 6pm and weekends)
Non-Prime Time, $3 per person per hour
Clay Court Fees:
Prime Time, $6.50 per person per hour (weekdays after 6pm and weekends)
Non-Prime Time, $6 per person per hour
Ball Machine Rental Fees:
1/2 hour for $15 or 1 hour for $25
Private and group lessons also available.
We accept Cash, Check, Discover, Mastercard, VISA, and American Express. All payments are made to UTA at Bitsy Grant Tennis Center.
LOCATION INFORMATION
Phone Number:
(404) 609-7193
Hours of Operation:
Monday – Friday (9AM – 9PM)
Saturday/Sunday (9AM – 6PM)
*Please note that hours may vary depending on weather conditions.
Hard Court Fees:
Prime Time, $5 per person per hour (weekdays after 6pm and weekends)
Non-Prime Time, $3 per person per hour
Clay Court Fees:
Prime Time, $6.50 per person per hour (weekdays after 6pm and weekends)
Non-Prime Time, $6 per person per hour
Ball Machine Rental Fees:
1/2 hour for $15 or 1 hour for $25
Private and group lessons also available.
We accept Cash, Check, Discover, Mastercard, VISA, and American Express. All payments are made to UTA at Bitsy Grant Tennis Center.
JOB OPENINGS
JOB OPENINGS
Bitsy Grant Part-Time Front Desk Staff
Looking for a reliable, hard worker with great customer service skills. This is a busy tennis center that requires one to be well-organized and able to multitask; court scheduling and sales through QuickBooks and POS system. The position requires interaction with customers in person and over the phone. Other tasks include but are not limited to:
Retail check out
Court reservations
Answering telephone
Greeting visitors and alert appropriate staff upon guests arrival
Taking and retrieving messages
Establishing and maintaining effective working relationships with associates, service contractors/vendors, patrons/public
Understanding priorities
Ensuring reception area is tidy and presentable
Other duties and responsibilities as assigned
Saturday afternoon and back up coverage for Sunday.  There is also the opportunity for additional hours.
MEET THE TEAM
MEET THE TEAM
Meet the Bitsy Grant team! Hover over and click the below team members to meet our tennis pros and learn more about them!
Meet the Bitsy Grant team! Hover over and click the below team members to meet our tennis pros and learn more about them!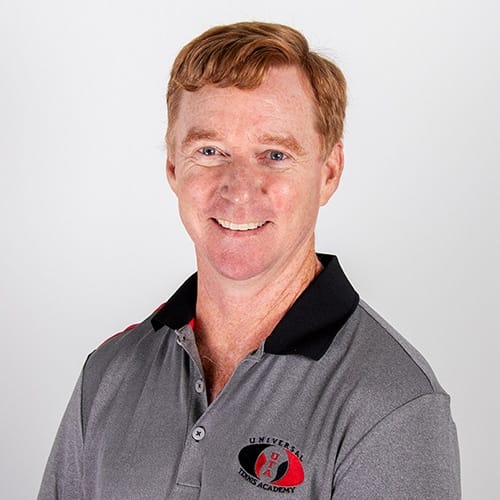 UTA Partner
David Drew
David co-founded Universal Tennis Academy with Tim Noonan and David Stolle in 1996. Originally from Bloomfield Hills, Michigan, David Played his college tennis at Vanderbilt University where he earned a Bachelor's Degree in Human Resource Development and a Master's Degree in Education and Marketing. David was also was a 2-time captain of the tennis team and SEC Champion. After college, David played for a few years on the ATP Tour.
Over the years, David has enjoyed working with kids of all ages and abilities. Some of the stand-out players that David has developed over the years include: Bobby Reynolds, Raian Luchici, Jordan Delass, Ross Beall, Cargill sisters, Jenkins brothers and Andrei Duarte. David's passion continues to be helping students reach their tennis goals whether it is making the high school team, college team or just having fun with the sport.
David also co-founded the Chattahoochee Foundation with Tim Noonan and David Stolle back in 1999. They have spent nearly 20 years creating tennis opportunities for underprivileged kids in the Atlanta area. The Foundation merged in 2018 with AYTEF so that they create even more opportunities in the future. They are currently using Washington Park Tennis Center to run programs which include an After-School education/tennis/nutrition program, Serve & Connect, DreamMakers Youth Foundation and The Ron Clark Academy.
David is married to an Atlanta native M.A. Glenn and they have two daughters Sumner and Ella. When there is a little free time in the schedule, David enjoys boating, golfing, playing the guitar along with spending time with his friends and family.
Work in the Community:
– Co-founded Chattahoochee Foundation in 1999 with Tim Noonan and David Stolle
– Director of Tennis for the Special Olympics from 2013-2015
– Directed the Ron Clark Academy for the past 10 years at Washington Park Tennis Center
– Serve and Connect @ Washington Park Tennis Center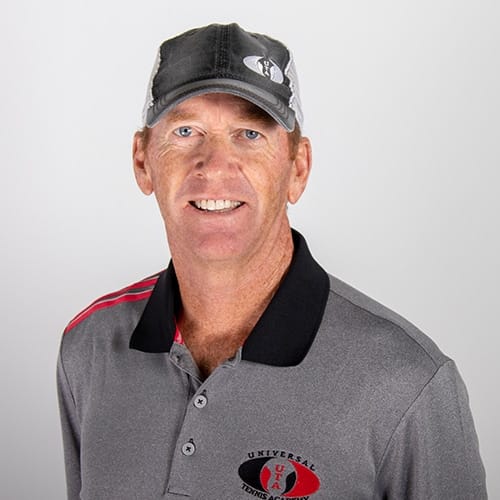 UTA Partner
Tim Noonan
Tim Noonan is a founder with Universal Tennis Academy. Tim is originally from St. Louis, Missouri. He received his Bachelor's in Architecture from the University of Notre Dame where he was a four-year letterman and captain of the Notre Dame tennis team. Tim worked as an architect for five years before returning to the game of tennis.
Tim was the Director of Tennis at both Sunset Country Club and Old Warson Country Club in St. Louis before moving to Atlanta in 1996, to become the head coach for the Atlanta Thunder. Noonan led the Thunder to the World Team Tennis finals that same year. Tim is USPTA certified Tennis Professional and the 2019 Georgia USPTA Pro of the Year.
Tim and his wife Karen have a stepdaughter named Madie and three rescue dogs. When Tim isn't on the courts he enjoys playing golf and skiing. Tim enjoys coaching students of all levels and ages.
Work in the Community:
– 396 hours and 11 years at DreamMakers
– 1,120 hours and 7 years at St Joseph Cardiac Cathy Lab
– Founder and 300 hours at St. Anne's Catholic Church Adult Mission Ministry Tennis Professional
Antonio Bogat
Originally from Port-Au-Prince, Haiti, Coach Bogat was a tennis and soccer MVP at the City University of New York. He earned an Electrical Engineering and two post-graduate degrees while attending the University of New Haven and serving as Soccer Team Captain.
Antonio has been ranked in the Top 5 in Georgia in the 30's, 35's, and 40's. He has 12 years of coaching experience and is a certified USPTA Teaching Pro. He has coached at both the collegiate and ITF levels. At UTA Antonio works with all different skill levels and ages. He has created his own line of sportswear called YellowMoon (www.toyellowmoon.com). When he has spare time he enjoys walking his turtles!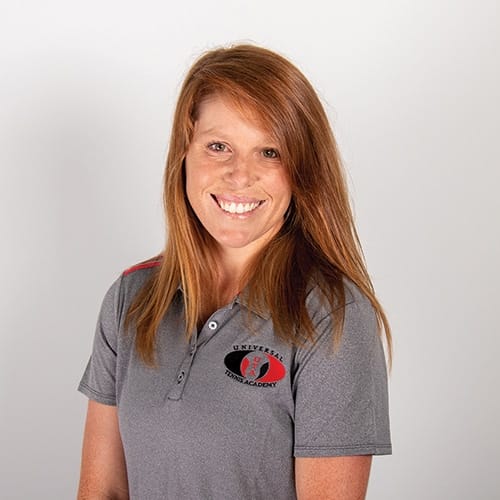 Tennis Professional
Chelsea Utting Vea
Chelsea is from Peachtree City, GA and started working at Universal Tennis Academy in the fall of 2014 after graduating from Penn State. She played positions 1 and 2 in singles and doubles and was ranked #21 in the NCAA for doubles. She earned a history degree from Penn State.
Off the courts, she enjoys playing golf and running around with her dog, Loretta Lynn. She is married to Bitsy Pro, Mikaiah Vea. Chelsea enjoys teaching adult and juniors from beginners to elite level.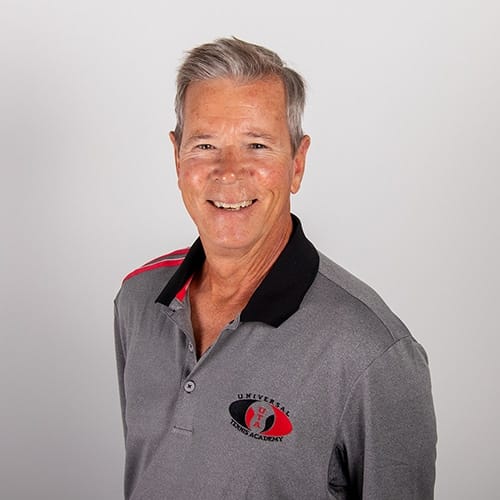 Tennis Professional
David Corbin
David attended Dekalb College and was named Most Valuable Player for their varsity team. He has been USPTA certified since 1992 and was the head tennis professional for the Boys & Girls Clubs of Metro Atlanta ACE Tennis Program from 1992-2006. David earned the Boys & Girls Clubs of America National Service to Youth Award.
He enjoys hiking and camping in the mountains and swimming in the ocean.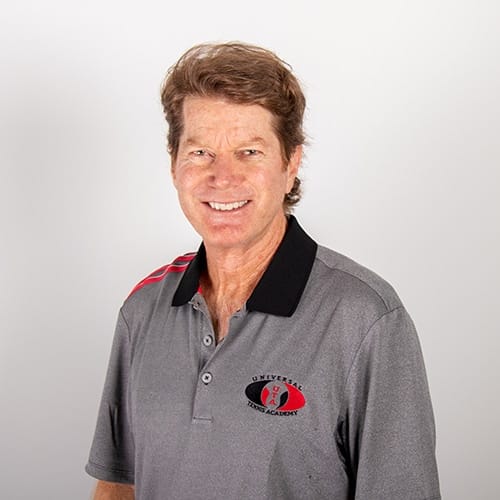 Tennis Professional
David Rogers
David is originally from St. Louis and attended the University of Missouri at St. Louis, where he earned his Bachelors Degree.
Prior to joining UTA, David was the Head Pro and a member of the Executive Staff at The Ritz Carlton, Rancho Mirage, CA., where he worked with former Davis Cup Captain Tom Gorman. He later became the Director of Tennis at the Hyatt Regency Scottsdale Resort & Spa at Gainey Ranch, as well as taking on the role of Head Pro at Aspen's Snowmass Club. While at the Snowmass Club, David was featured on The Tennis Channel Destination Series! Coach Rogers has been USPTA Certified for nearly 30 years. When he is off the court he loves to play the drums and go fly-fishing.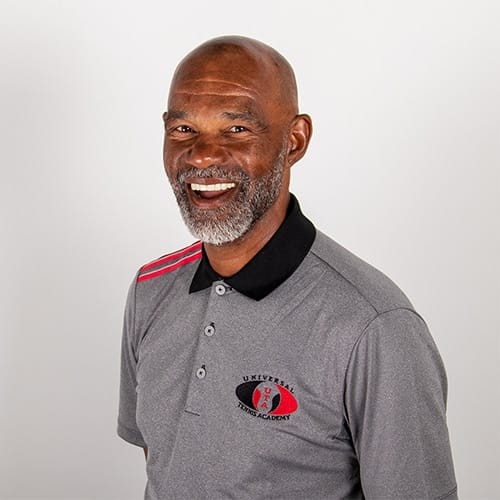 Tennis Professional
Emory Harris
Emory, originally from Macon, GA., is a graduate of ASU in Albany. He has been teaching tennis in Atlanta since 1995. Emory is PTR certified and has coached several ALTA teams to the city finals. Emory teaches adults and junior players of all abilities. He enjoys music and spending time with friends. Tennis Professional
Frank Thompson
Frank is from Tallahassee, Florida and walked on to the FSU tennis team between 1989 and 1990. He earned a BA in marketing while at FSU. Frank has been teaching for 25 years and has worked with top-ranked juniors and has also led ALTA teams to city championships.
He comes to us from Cherokee Town and Country Club where he worked for eight years. While there, he was instrumental in building the platform tennis program and is now the Director of Platform Tennis at Bitsy Grant.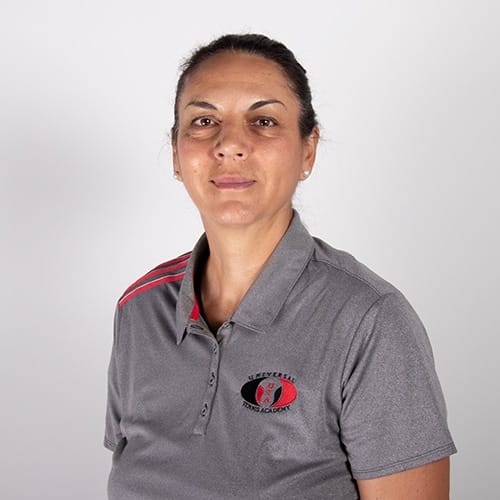 Tennis Professional
Gabriela Popa-Cooks
Gabriela won the Romanian University National Championships four times! She accomplished this feat while earning a degree in Mechanical Engineering in her hometown of Galati, Romania. She coached and competed professionally for 3 years in Turkey and Romania. When she first came to the U.S., she coached collegiately at Old Dominion University in Norfolk, VA. Gabriela has been teaching at Bitsy Grant for over 10 years, establishing long-term relationships with teams and players of all levels and ages. Off the court she enjoys reading, shopping, and interior decorating. Gabriela and her husband Calvin have a son, Dominic.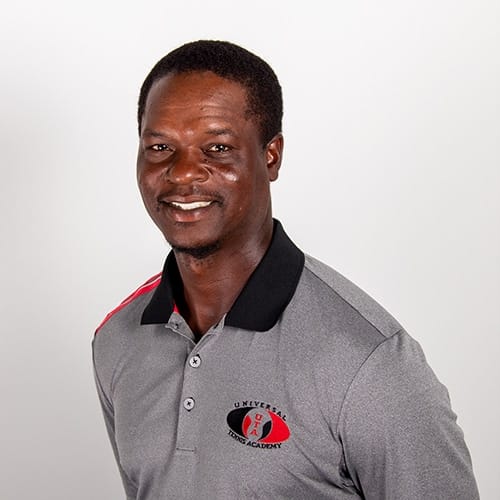 Tennis Professional
Jackie Jenkins
Atlanta native, Jackie started playing tennis at the age of 4. Jackie was ranked in the Top 50 in the USTA Boys 18s and played collegiately at Northwestern University while studying Political Science. Jackie was the recipient of the Georgia Tennis Associations Sportsmanship Award in 1997. Jackie is one of three Jenkins brothers to play collegiately at the D1 level. Younger brothers, Jermaine (Clemson) and Jarmere (aka Hands, UVA), were also standouts at their respective universities. The family was featured on Oprah Winfrey's show in 2002! Tennis Professional
Jennifer Gonzalez
Jennifer is originally from Louisville, KY and has been involved with tennis since the age of 16. She played college tennis for two years at Northern Kentucky University and then transferred and graduated from the University of Kentucky. Upon graduation, she worked at Wild Dunes Resort just outside Charleston, SC. In 1992 Jennifer moved to Atlanta where she worked for Reebok International for 13+ years.
Jennifer and her family (Eddie, Gabriela & Tres) all participate and volunteer in tennis at the local, sectional and national levels and have been part of the UTA family since 2009. Jennifer assists on court and is also the liaison between Junior Team Tennis and all UTA facilities. Jennifer is also PTR certified. Strength & Conditioning Coach
Jonathan Kolowich
Jonathan, who is from Atlanta, attended Georgia State University where he played Division 1 tennis and earned his Bachelors Degree in Sports Management. He is certified as a personal trainer through the International Sports Science Association and runs the strength and conditioning program for athletes of all ages at Bitsy Grant.
Jonathon designs specific drills aimed to enhance speed, agility, leg and core strength, explosiveness, balance, flexibility and injury prevention. When not at UTA Jonathan works with adults and kids of all ages at the Brad Kolowich Jr. Fitness Studio in Atlanta off Northside Drive.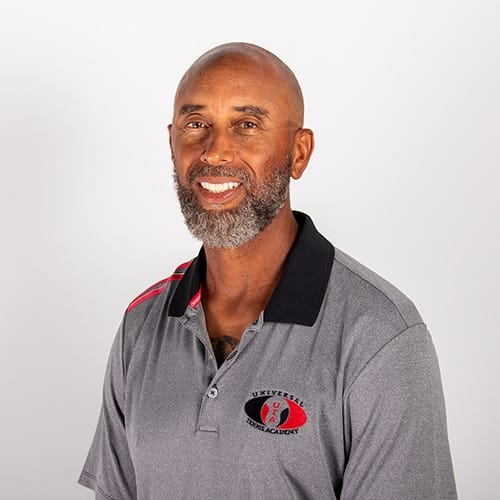 Tennis Professional
Keith Foxworth
Keith Foxworth's hometown is St. Louis, Missouri. He was a collegiate player at Grambling State University, graduating with a degree in Therapeutic Recreation. Keith has over 20 years of coaching experience and is PTR certified. Keith enjoys teaching players of all ages and abilities from juniors to adults. When not teaching on the courts, Keith enjoys golf, collecting art and travel.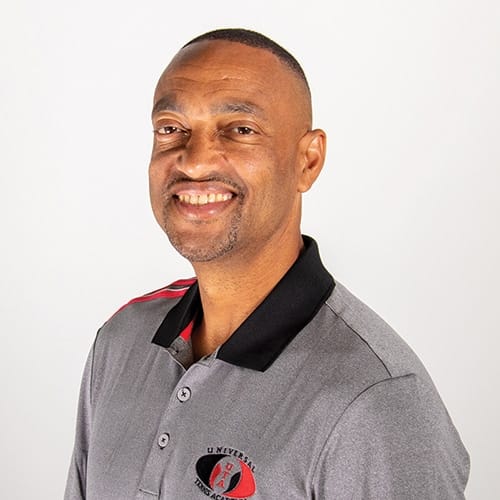 Tennis Professional
Lamar Scott
Lamar played tennis as a junior in Augusta, GA and then Nashville, Tennessee. He was ranked as a junior in Tennessee before playing for Dillard University. He was captain of both his high school and college teams. After earning a BA in Communications and English at Dillard University Lamar received his MPA in Human Resource Management at Clark Atlanta University.
Lamar has a "professional" Certification with the Profession Tennis Registry (PTR). Lamar serves on the executive side of ALTA and is the Overall Coordinator for the AA and A level of Men's ALTA. Lamar received the 2017 Iberia Bank Tennis Professional of the Year award from USTA Georgia as well as the 2017 USTA Southern Tennis Professional of the Year award. In addition, Lamar received the PTR Volunteer of the Year award in February 2018.
Along with tennis Lamar enjoys golf, travel, exercise, and of course the Atlanta Falcons! In August 2017, the National Football League selected Lamar to be featured in an episode of Tackle My Ride, a television show that salutes a deserving fan who has demonstrated outstanding community service! Tennis Professional
Lisa L. Robinson
Lisa was born in Misawa, Japan but has lived all over the world. She attended Xavier University in New Orleans where she earned a Bachelors of Science in Pathology as well as a Masters in Special Education. She is currently working on her Ph.D. in Human Services.
Lisa Robinson competed at Xavier University playing both singles and doubles. As the captain of the women's team, Lisa was conference champion and received numerous awards for achievements made throughout the season. Lisa represented Xavier University at the National Collegiate Championship tournament. During her senior year, Lisa transitioned into the position of Head Coach for both the men's and women's tennis teams at Xavier. Lisa has been teaching tennis for over 20 years and still competes at the recreational level.
Lisa is PTR and USPTA certified. She coaches adults and children of all ages. When she is not coaching her hobbies include cooking, reading and traveling.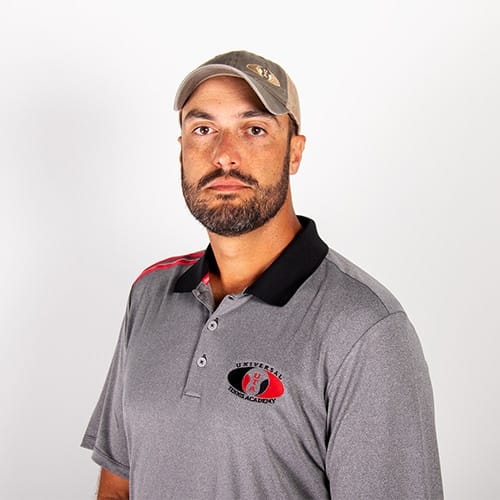 UTA Director
Marcelo Ferreira
Marcelo is a Brazilian native who graduated from Georgia College & State University (GCSU) in 2006 with a Physical Education degree with a minor in Health Education. He was a three-year letter winner, earning Peach Belt Conference Presidential Honor Roll status every season. After graduating from GCSU, Marcelo served as assistant coach for both Men's and Women's tennis programs.
Marcelo later earned his Master's degree in Interdisciplinary Studies with a concentration in Exercise Science and Sports Management from Texas Tech. He spent five seasons at Texas Tech University as an assistant coach before being promoted to associate head coach during the 2012-2013 season. He was twice named the ITA Texas Region Assistant Coach of the Year. Under Marcelo's leadership, his team made five consecutive NCAA Tournament appearances from 2008 to 2012 and his teams finished ranked in the ITA top 25 an unprecedented four times. Marcelo also led a double team to the finals of the NCAA Doubles Championship (2012).
Marcelo was hired in 2013 as Pepperdine Men's Tennis Head Coach. He helped lead rising senior Alex Sarkissian (former top 150 ATP)) become the third player in program history to reach the finals of the NCAA Singles Championship (2013).
When not on the courts he enjoys spending time with his wife, Jesse. Marcelo has worked with high-level players the last 15 years but loves working with everyone and all levels!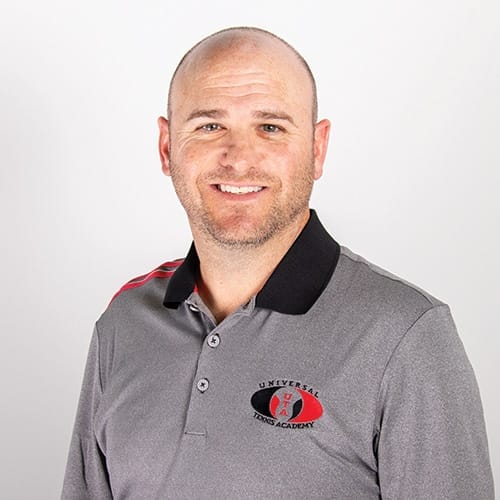 Tennis Professional
Mark Staats
Coach Staats, originally from Salisbury, NC, played Division 1 college tennis at the University of North Carolina at Wilmington. Mark played #1 Doubles and #4 Singles while earning his degree in Psychology. He is USPTA Certified and has been teaching for several years. Coach Staats enjoys teaching people of all ages and ability levels but mostly coaches adults and USTA/ALTA teams. When he has some free time he likes to play golf.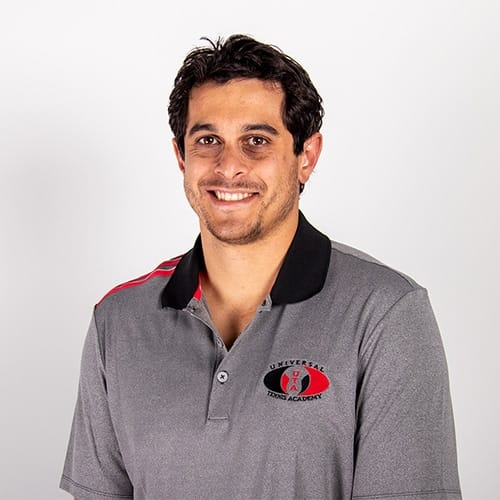 Tennis Professional
Mikaiah J Vea
Mikaiah Vea is from Princeville, Hawaii.  He was ranked top 700 in ITF juniors and played for Savannah College of Art and Design.  He enjoys working with players of all ages and abilities, but especially those players in the Excellence and Junior Excellence level. In his spare time, Mikaiah enjoys graphic design and golf.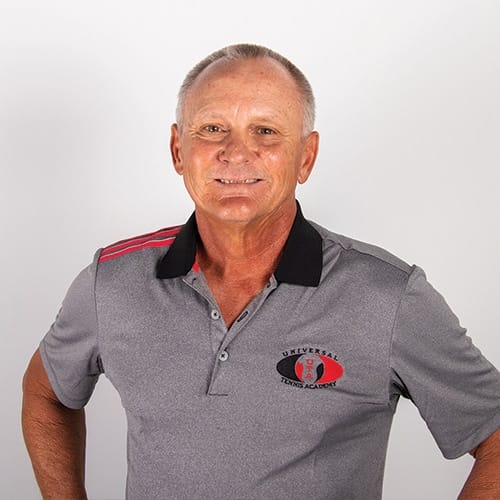 Tennis Professional
Monte Teal
Monte is one of two Atlanta natives on our full-time teaching staff and has been a fixture at Bitsy Grant Tennis Center for more than 20 years. He competed collegiately at Oglethorpe University and played professionally in Germany after college. Monte achieved a top 10 state ranking in both the 35's and 45's singles. Monte has coached players of all levels and has been very successful as a junior ALTA coach. When he isn't teaching he loves competitive sailing.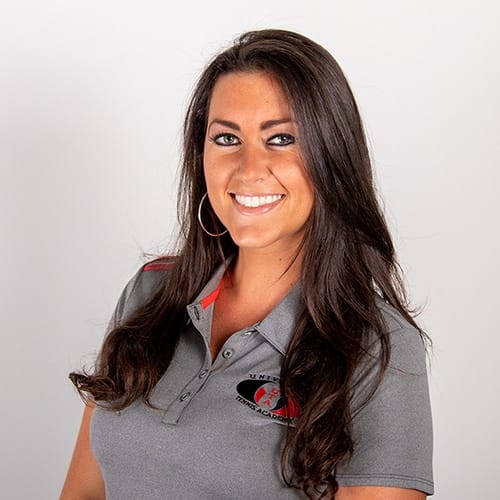 Tennis Professional
Sydney Grant
Sydney grew up in Marietta, Georgia and went to high school at The Walker School where she was inducted into the Tennis Hall of Fame. As a junior, Sydney was consistently in the top junior rankings in the South and in Georgia. She was a 5-star recruit and was ranked top 50 in the nation. She earned a tennis scholarship to the University of Richmond and competed at top of the line up for singles and doubles. The team won 2 Atlantic Ten Conference Championships and Sydney was honored as All-Conference Second Team. She also played tennis at Georgia Southern University and graduated with an Anthropology degree.
Sydney was a Volunteer Assistant Coach for Emory University Women's Tennis Team & participated in a team trip to Thailand. She has been coaching in the metro Atlanta area for 4 years, working primarily with young children and juniors, but enjoys teaching all ages. She is passionate about working with animal shelters, hiking, painting, and traveling.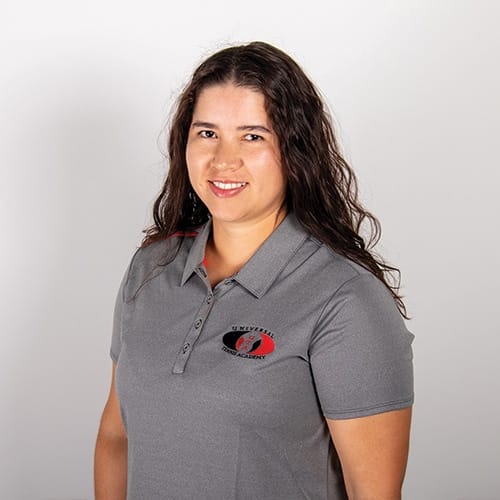 Tennis Professional
Natalia Escobar Pritchard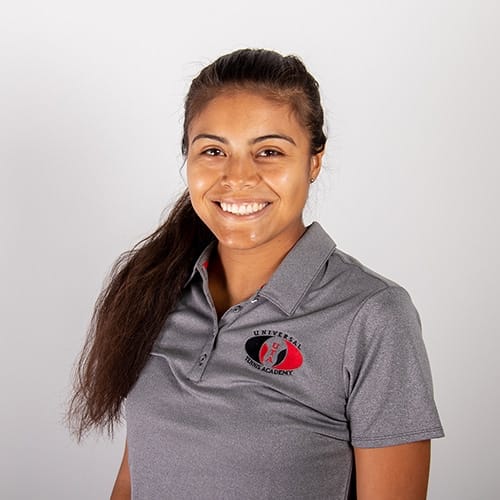 Tennis Professional
Natalia Kattah Paz
Natalia Kattah Paz hails from Bogota, Colombia.  She's been playing tennis since she was 5. Natalia attending Lindsey Wilson College and Columbus State University and played on the women's tennis team.  They reached the national championship all 4 years; the first 2 years they were runner-up at the National NAIA Championship and at Columbus State the semifinal of the NCAA Division II Championship.
Natalia has completed nationally and internationally in tournaments such as COSAT, ITF Junior and WTA. Her career highlights include Peach Belt Conference Tournament Doubles Most Valuable Player (2018) and All-Peach Belt Conference First Team Double (2018).
In her spare time, Natalia love's spending time with her sister who is a volleyball player, working out in the gym, running and doing sports of any type.  She enjoys challenges and dancing is one of her favorite hobbies besides sports.
Natalia likes working with adults, hitting lessons and high-level juniors but enjoys all ages as well.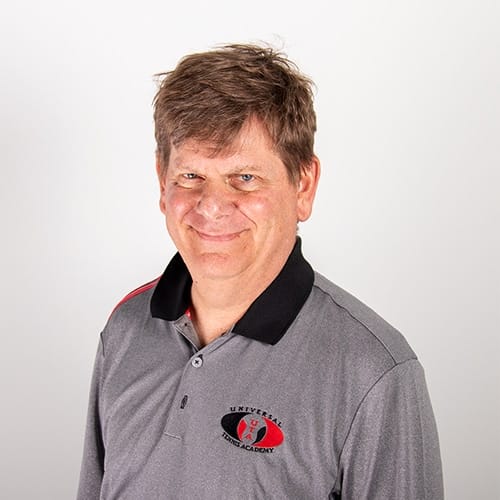 Tennis Professional
Rick Willett
Rick has been coaching tennis with UTA at Bitsy Grant since 2009. He is a member of USPTA, GPTA, and USTA. Rick has a passion for successfully coaching ALTA and USTA teams plus helping players improve with individual lessons. In addition to coaching at Bitsy Grant, he has also taught in Chattanooga and Alpharetta.
Rick currently serves on the USPTA Georgia Board. He also actively volunteers with Dream Makers, a nonprofit organization that helps children with special needs learn how to play tennis. He is a contributor to the USPTA Southern Standard. He also provides teaching tips and strategies to One Good Idea. Rick believes staying on top as a tennis professional is through continual tennis education so he takes 12-15 hours of tennis education annually. Rick has strong ties to Bitsy Grant as his father won many tournaments here while he was growing up! Tennis Professional
Jefferey McGill
Jefferey has been an avid tennis player since 1972, winning the San Jose Tomadochi Open in 1985. He attended Foothill College and graduated with honors from Georgia State University with a degree in Political Science in 1998.
Jefferey taught at the Fremont Tennis Center from March of 2016 to October of 2017. He also worked with members of the Upson Lee High School (Thomaston Georgia) boy's tennis team.
He is USPTA and PTR certified and is very passionate about teaching.  Jefferey finds it is a source of gratification teaching children, teenagers and adult the game of tennis.  He is ambidextrous and encourages developing diversity of shot selections for an all court game.
UTA
Bitsy Grant