UTA has developed junior tennis players into Touring Professionals, NCAA Champions and All-Americans, and National Junior Gold Ball Winners. We have sent over 200 juniors to compete at the Collegiate Level. A few of our students that are former touring pros are Bobby Reynolds, Brian Vahaly, Amanda McDowell, Raian Luchici, Scoville Jenkins, Brett Ross, and Ansley Cargill.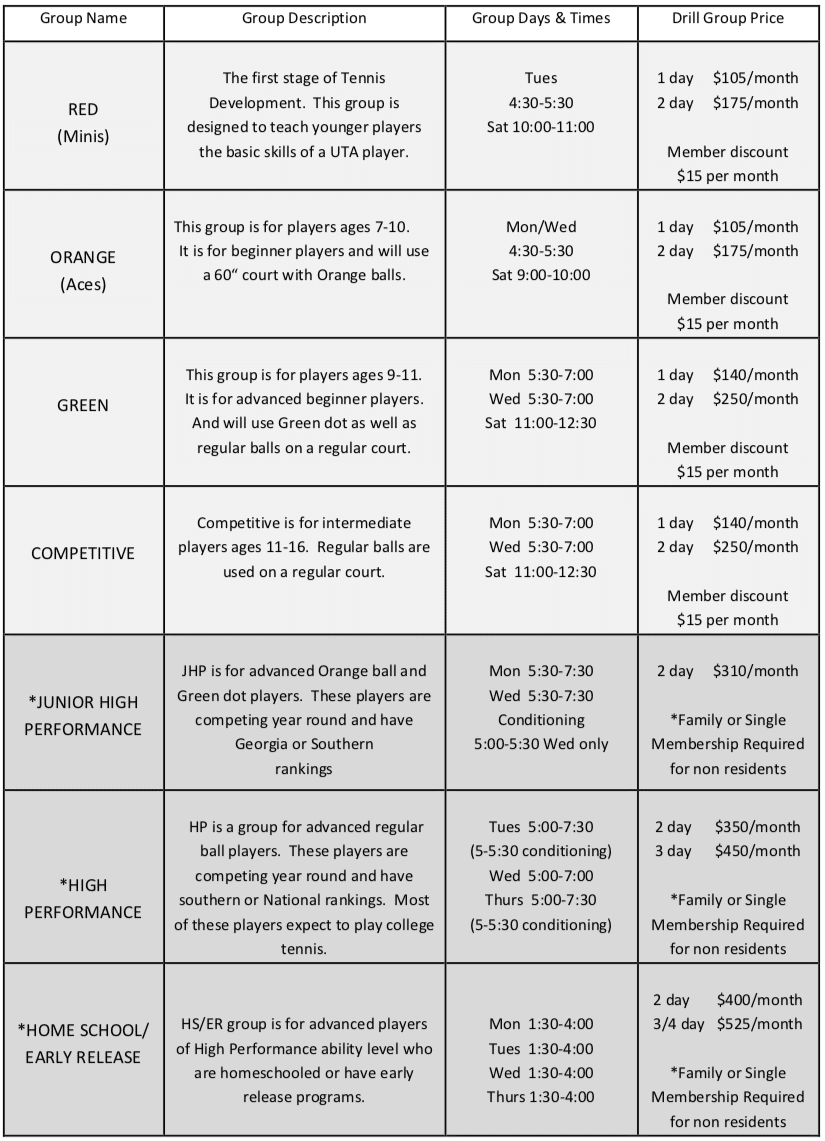 New Group Class Procedures
All developmental class groups will be limited to 4:1 ratio (student /instructor).
All staff members will have their temperature checked prior to working each day.
Students/Instructors will not be required to wear masks or gloves, but can do so if they want.
Each court will have a sanitation station with hand sanitizer, masks, gloves and disinfectant for use during classes.
Please educate your student(s) to avoid physical contact with instructors or other students.
Adults/Students may be asked 3 questions:

Have you experienced any COVID symptoms?
Have you been in contact with anyone diagnosed with COVID?
Have you traveled outside of USA in the last 30 days?

If the answer to any of these questions is YES, the student will not be allowed to participate in class that day.
We will be scanning student's temperature prior to each class. If temperature registers higher than 100.4 degrees the student will not be allowed to attend class that day.
Please bring only racquets and water bottles to the court. Tennis bags may only be stored off court behind the curtains.
We will be restricting the number of people that can enter the indoor courts, so please limit the number of people accompanying students for classes and lessons.
Only instructors should be handling the tennis balls. Students should not be picking up tennis balls. Students will be instructed to push the balls with racquets to pick up areas, where instructors will pick up with hoppers.
We ask that you pick up students on time as we try to eliminate group gathering as much as possible.
To prevent the spread of germs, we ask that payment for private lessons be processed with a credit card on file whenever possible.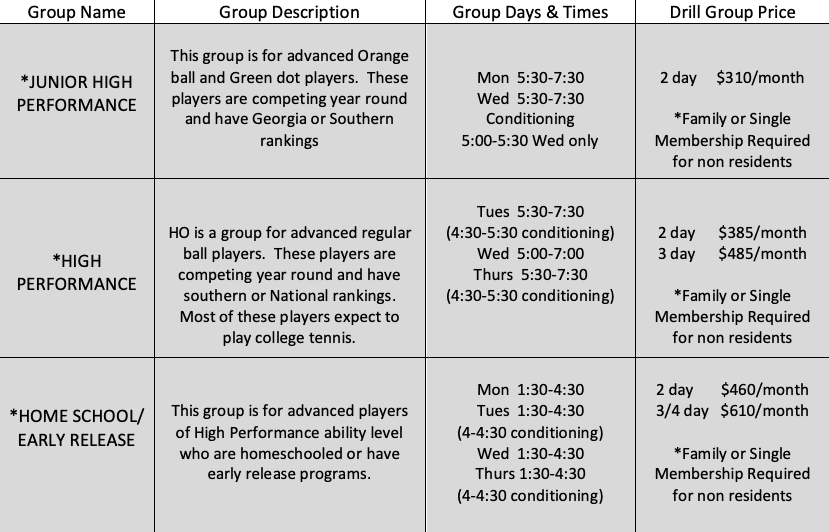 With the dynamic environment that COVID-19 has put us in, we would like to introduce a very creative and unique mentorship program that we are planning on implementing beginning the Summer of 2020. We have been fortunate enough to have so many tremendous Juniors achieve their Student/Athlete goals under our guidance, so we would like to continue those efforts through a mentorship program.
A membership is required for all High Performance Academy students. The membership entitles students to reserve indoor courts for an additional fee, the use of outdoor clay and hard courts at no charge, and access to clinics and programs.
Membership Costs (in addition to program fees):
Family Membership (2+ students): $50/month
Single Membership (1 student): $35/month
James Creek Neighborhood Resident: No membership fee required
We require a 30-day written notice for withdrawal from the program. In the absence of a 30-day notice, a monthly drill charge will be assessed.
James Creek Junior Programs