UTA has developed junior tennis players into Touring Professionals, NCAA Champions and All-Americans, and National Junior Gold Ball Winners. We have sent over 200 juniors to compete at the Collegiate Level. A few of our students that are former touring pros are Bobby Reynolds, Brian Vahaly, Amanda McDowell, Raian Luchici, Scoville Jenkins, Brett Ross, and Ansley Cargill.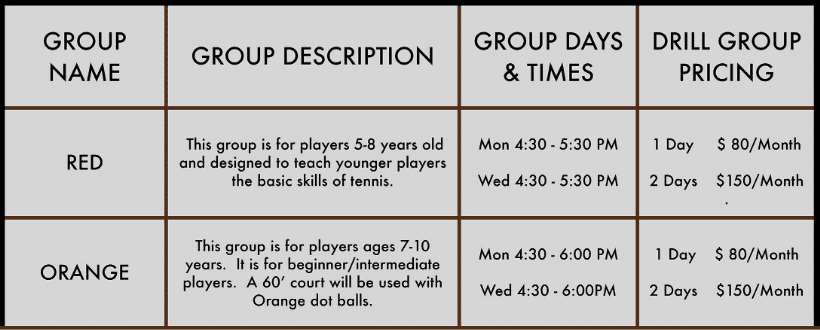 Membership:
An annual membership fee of $150 is billed in January of each year. This fee is required of all children in the Tournament group. Only one fee is billed per family. For students starting mid-year, this amount will be pro-rated. In case of early withdrawal, there will be no refunds.
Make-Up Policy:
If drills are canceled due to inclement weather, students may attend their regular drill group on a day that they don't normally attend within that month. To receive rained out information, click here and follow the process.
Program Withdrawal:
We require a 30-day written notice for withdrawal from the program. In the absence of a 30-day notice, a monthly drill charge will be assessed.
UTA has adopted the Quick Start Program as a tool to teach young players proper tennis fundamentals. The program allows players to play the game of tennis at an earlier stage of development through a systematic progression of scaled rackets, modified balls, and court sizes.
If you are interested in private lessons, please contact Melanie Burrows at [email protected].
Clarkston Junior Programs